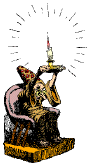 Looking for General Information
Finding People
Finding Places
Finding a Mailing List
Find the Right Toilet Stall - Usenet
Finding Newspapers and Magazines
Finding Business Information
Finding General Information
Finding Government Information
Finding Legal Information
Finding Software
Internet for College Research
Search the Entire Internet
Search Engine Mysteries Revealed
More Information on Searching


Internet for College Research
Separating Wheat From Chaff
Search Engines Are For Sissies
Taming the Search Engine Monster
Explore the Internet Wilderness
With a Guide
Who Needz a Dikshunary When
You've Gotz The Net?
Search A Library On-Line?
I Thought Libraries Were
Extinct?
Halt, This Is The Copyright Police!
Plagiarists Will Be Shot!
Thesis, We Don' Need No Steekin'
Thesis!